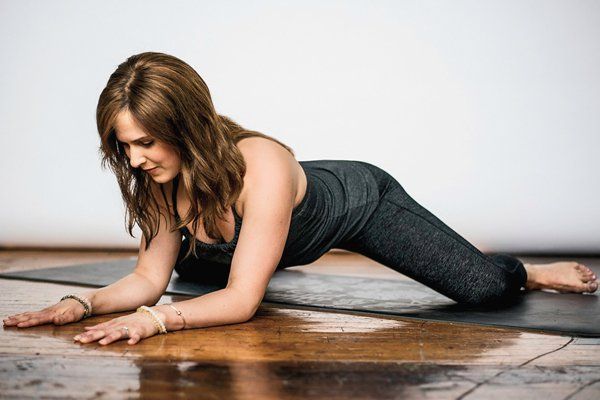 Holy Hip Workshop
At the hub of our mobility, our hips joints are vital for our pelvic stability and foundation to the earth. If tight or imbalanced, the low back, pelvic floor and postural alignment are compromised. In this workshop participants will experience three movement sequences to stabilize and strengthen, release and relax the hips.
Commencing with a slow moving vigorous practice to connect to each aspect of support, we will isolate and engage, the hip flexors and the quads, the glutes and hamstrings, the adductors and the abductors. Reviewing anatomy to map the hips you will understand and discover where you are strong or weak and engaged or disconnected. In a therapeutic hip opening sequence we will safely explore more deeply into each aspect of the joint and then complete with a restorative sequence to unwind and integrate.
At the completion of this workshop, you will enjoy a sense of connection and stability, as well as grounded openness!
Location:
Online
Day:  Saturday
Date: October 14th

Time:  2pm-4:30pm
Cost:  $48 + GST = $50.40

Online includes recording
Presented by Sharon Abbondanza
I loved the workshop. I loved the model your daughter made of the muscles and the way that you paired the visual demonstration with partnered touch. My back felt amazing after- like as if I don't work on the computer at all.
I really enjoyed your workshop and I think the backmitra is a wonderful tool, so effective… your many layers of experience all come together in your teaching… harmoniously filled with a vibrant and enthusiastic approach to yoga and to using the mitra to support our experience.
What I most enjoyed was the richness and fullness of the workshop. If I was to use one adjective to sum up your workshop, I would say "multi-dimensional". Your looking-at-it-from-many-different-angles approach not only engaged me physically but also my intellect, senses, emotions, curiosity, and sense of wonder were fully involved. The holistic way appeals to so many parts of me; it inspired me to want to explore and learn more!
You are blessed with a great voice for leading workshops - great cadence, tone, clarity, pitch. The pace was excellent, allowing time to do and integrate without becoming overwhelmed or bored. A nice mix of practical work with some theory mixed in to aid in over all understanding. Your knowledge is very good; you answered the questions very well with clarity and "just the right amount" of information.
You are a gifted teacher - the workshop was informative, beneficial and flowed in a logical sequence allowing us to relax and move forward bit by bit...The atmosphere you created was welcoming and engaging.
I love the way you teach and your knowledge and how you teach anatomy in such a clear and simple way is a true gift.
Thank you for yesterday's lumbar spine workshop.  I find that you have so much to offer!
Sharon's kind and tender attention to every one of us - well organized program that I resonated with.
I also enjoyed your teaching style, the rate of information and instruction and your delivery. You have an awesome yogic voice! The pace of the class allowed me to fall into a deep state of concentration (for lack of a better word) and I think I REALLY benefited from that.
Sharon Abbondanza is a highly skilled yoga teacher and therapist. She artfully weaves decades of experience and complex ideas around anatomy and energetics into understandable and practical tools for self care and for teaching to others. Sharon creates a nurturing and safe container for her students to deeply experience the work that she masterfully facilitates. She is a gem in the yoga community and I would urge anyone considering taking a workshop with her to sign up before it's full! This is a generous teacher who you do not want to miss the chance to study with.
The way in which Sharon brings anatomy awareness to posture and muscle/spine tension in the backmitra sequences and hatha flows is incredible. How open and free my body feels afterwards. Sharon's energy, passion and the deep space she holds… is magic!
I found the space to be warm, comfortable and calming. You are an excellent teacher in that you explain things very clearly and I found it very helpful when you demonstrated what you wanted us to do by getting one of the other participants into the posture with your guidance. I was always clear on what I was supposed to be doing.