Retreats
"Awake my Dear ~ Be Kind to your sleeping heart. Take it out into the vast fields of Light and let it breathe."
Hafiz
Our Retreats
In April 2022 ~ Stowel Lake Farms
In February 2023 ~ Oaxaca, Mexico
Join us in Mexico for an inspiring Yoga Retreat
Replenish body mind and soul at the charming villa of Las Tres Marias; be nourished by a creative exploration of yoga practices. With over 40 years of combined experience, Brigitte and Sharon provide a grounded learning environment and inspiring practices to deeply replenish your whole being.
Set in the enchanting beach bay of San Agustinillo, the open air studio offers a spectacular ocean view. After your transformative morning practice, enjoy wholesome cuisine and a languid afternoon ~ perhaps a siesta in your hammock or a cerveza with the setting sun.

These retreats are a divine blend of rejuvenation and restoration. Reconnect with yourself and take home tools of transformation to elevate your self-care & deepen your well-being.
Come and enjoy the beauty and abundance of life on a farm. In the quietude of open spaces, deepen your practice, whether new or experienced on the yoga path. Take time to listen – to yourself, to the birds, to the silence. Surround yourself Enjoy delicious, vegetarian cuisine. Be Inspired. Align with your inner wisdom and nourish your soul. Seek solitude, make new friends, and enjoy the company of resonant connection.

Sharon & Edi will support you in your own exploration of yoga. Join for early morning meditations and pranyama, engage in an enlivening morning asana practice or opt for a gentle therapeutic flow. Delve into a rich workshop style offering on Friday, free you spine on Saturday! Participation is always optional. In the evenings relax deeply into Yoga Nidra or Somatics; shed your stress and attend your heart.
These days together will deepen our sense of belonging, support well being on all levels and nurture the wholeness within. We would love you to join ~
"I am pain free for the first time in 6 years. My heart has lightened. This retreat was an experience of profound integration."
"Superb yoga instruction. Brigitte & Sharon are concise, caring, professional & empathetic."
"What I most enjoyed was the richness and fullness of the workshop. If I was to use one adjective to sum up your workshop, I would say "multi-dimensional". Your looking-at-it-from-many-different-angles approach not only engaged me physically but also my intellect, senses, emotions, curiosity, sense of wonder were fully involved. The holistic way appeals to so many parts of me; it inspired me to want to explore and learn more!"
"Felt fabulous all week!
Thank you! I have felt fabulous all week! Your class design is obviously well thought out and I could hear and feel your passion and commitment to keeping us connected to the rhythm of our own breath. Masterful."
"My spirit really raises in your presence.
Beyond my body feeling good my spirit really raises in your presence. Over the past years that I have been studying with you, I see a soul evolution in your teaching. I feel so privileged to be able to benefit from your amazing teachings and all you continue to learn."
Mexico Retreat Cerro Largo
Join us at Cerro Largo in Oaxaca for an enchanting Yoga Retreat — Let the sacred sanctuary of Cerro Largo and the inward journey of yoga and meditation support your deepest well-being. Be Inspired. Be Moved. Be Courageous. Sharon and Mario collaborate to create a profound experience that will both challenge and rejuvenate you.
Rancho Cerro Largo is a charming private retreat centre just west of San Agustinillo, approximately a one hour drive from the airports in Huatulco or Puerto Escondido. A healing oasis, this peaceful refuge will nourish your body & mind, heart & soul.
"I am pain-free for the first time in 6 years. My heart has lightened. This retreat was an experience of profound integration."
– Tom E
Date:  2023, Dates TBD

Location:  Rancho Cerro Largo
Duration:  7 Days
Cost:  $1,280- $1,400 USD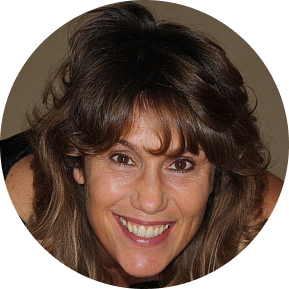 Sharon Abbondanza
Instructor
draws on decades of training in anatomy, psychology, philosophy and a variety of yoga lineages to assimilate the intelligence of yoga therapy with the innovation of restorative alignment using the BackMitra. She has a thriving private practice and offers workshops and trainings in North and Central America. With poetic eloquence, Sharon whole heartedly guides students to access an inner well of wisdom and power. She is an intuitive and dynamic teacher who cultivates a soulful learning environment that honours the body as a profound portal to our multidimensionality.
"What I most enjoyed was the richness and fullness of the workshop. If I was to use one adjective to sum up your workshop, I would say "multi-dimensional". Your looking-at-it-from-many-different-angles approach not only engaged me physically but also my intellect, senses, emotions, curiosity, sense of wonder were fully involved. The holistic way appeals to so many parts of me; it inspired me to want to explore and learn more!"
[tpsscode cat="retreats" text_color="#ffffff"  stars_color="#EAAF37″]